Sometimes you have to slow down to speed up
It's an incredible time to run your own business, with endless possibilities and opportunities. But as women who balance entrepreneurship, home life, pets, and families, we're "on" 24×7.  How can we operate at our best when we're running out of fuel?
– Slowing down gives you the space to recalibrate your business strategy
– Nourishing your body gives you the fuel to be at your best
– Eliminating the mental clutter will bring clarity on high impact goals
Why did you become an entrepreneur?
More and more women are ditching the grind of working for someone else and taking the power back into their own hands to:
– spend more time with family and friends
– tap into a higher earning potential
– have a direct positive impact on the world
We became entrepreneurs to have the power to enjoy life on our own schedule!  But sometimes:
– Our duties as wives, mothers, daughters, and community members can deplete us
– We love to support others but don't always ask for support ourselves
– Don't always get the downtime that we need to recharge our batteries
 I want an Entrepreneurial Escape
As a mother, nurse, and entrepreneur herself, Denise gets it too!
you've earned a retreat where you can:
– Restore your body
– Clear your mind
– Center yourself & clarify business objectives
– Learn tools to enjoy yourself safely
Bring your team of entrepreneurs to Denise's cozy lake house for an Energized Body Soulopreneur retreat!
– Get pampered with Denise's delicious food (she loves to entertain!)
– Refresh your soul away from the distractions at home
– Learn how microdoses of cannabis and psilocybin  can actually help you move forward
– Learn how energy frequency and vibration heal and receive a HEALY Energy Healing session  (like Reiki)  
Book my Connect & Clarify Retreat 
Wait – won't cannabis slow me down?
No! This is a common myth. 
Wellness experts across the country are finally realizing the power of microdoses of cannabis.  
And not all cannabinoids are the same! You can choose from CBD, THC, and Delta-8…all have different properties and are used for different things.
That's why working with a cannabis nurse is essential – the people behind the local dispensary can't give you dosage and combination advice.
But Cannabis Nurse Denise can help you formulate cannabis combinations to help you:
– Sleep soundly at night so you wake up refreshed
– Soothe anxiety to help you see clearly
– Eliminate the mental clutter without being impaired
…Not to mention all the anti-inflammatory and pain management benefits.
We can serve our business (and our family and community) when we're at our best.
I'm Ready To Restore and Refresh!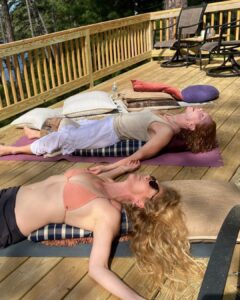 What do you get with Denise's Energized Living Soulopreneur Retreat for Women Entrepreneurs? 
– Arrive with your team at Denise's Lake House on Lake Ossipee, NH
– Unwind with healthy delicious appetizers and learn from Denise how to recreate safely with CBD and THC Mocktails
– Enjoy a sunset boat cruise on Lake Ossipee.
– Learn how to use CBD and Cannabis for health and wellness
without being impaired- she'll have canna goodies to try (What happens at Soulopreneur, Stays at Soulopreneur!)
– Learn natural restorative techniques such as Denise's Energized Living Morning Flow , Journey Dance, restorative yoga, meditation, nutrition, and plant medicine like microdosing cannabis and psilocybin for health and wellness
– You'll have the time and space to invigorate your business strategy
– Denise will do all the cooking and will share recipes and healthy cooking hacks
– There will be laughter and ceremony around the fire pit.
Enjoy paddleboards, a boat ride on Lake Ossipee or a hike in the White Mountains
As the team leader, you won't have to worry about a thing.  Denise loves to entertain and will take care of all the details.
You can focus on: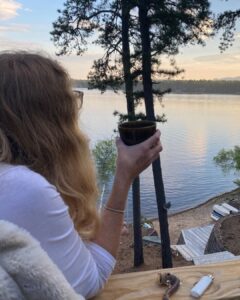 – Getting your team together for bonding
– Supporting them in their business goals
– Connecting them together for personal and professional growth
– Bringing your team leader magic!
You and your team will leave refreshed and connected, with new tools to balance entrepreneurship and a happy life.
Book your Energized Living Soulopreneur Retreat for Women Entrepreneurs now and get pampered by Denise Costello from Energized Living…limited dates are available!
FAQ
What's included in Denise's Retreat for Women Entrepreneurs?
– Lodging for 8 people on your team
– Food and nonalcoholic beverages all weekend (Denise loves an excuse to cook!)
– Light breakfast to invigorate the day
– Gentle yoga and meditation practices led by Denise herself
– Firepit for winding down the day with laughter, drum music, and journey dance
– Boat rides and mountain hikes (dependent on weather and group preferences)
– A workspace for your team meetings
– Cannabis samples for your team to try
– Receive Group and individual HEALY  Energy sessions 
Who is Denise Costello and what is Energized Living?
Holistic Cannabis Nurse Denise Costello with over 30 years healthcare experience, combines traditional nursing with modern cannabis research to create a natural lifestyle that's full of inner peace, nourished body, and spiritual energy.
We were meant to be happy and to enjoy all the things that this universe generously provides us on a daily basis. Nature has given us many tools to manage the normal stress that occurs with life's ups and downs and keep our body & soulfully nourished and whole, without a lot of pharmaceuticals.
Energized Living creates a lifestyle that becomes your medicine using natural and free methods such as meditation, music, prayer, and movement that anyone can use.  Denise also teaches how to use food to work with our body (not against it) using a variety of nutritious ingredients that are easy and entertainment-worthy.  Denise also incorporates the latest cannabis and psilocybin research to use plant medicine to reduce inflammation, anxiety, and depression and to help everyone get a good night's sleep.  
What if I want to have just a day retreat at a different location?
No problem! Denise can come to you and curate an event specific to your needs. 
How do I get started?
Book a call with Denise at a time that's convenient for you and we'll go over all the dates and details to get your team connected and refreshed as soon as possible.